Skiing meets indoor fitness with the new ski-inspired workout, SHRED! Created by Caroline Levere, she was "excited to be able to combine her passion for skiing and fitness with the skills she learned at Columbia Business School, to bring the best new workout to New York!" We are also excited to be hosting a media workout at SHRED this May where bloggers, local businesses and members of the media can take a free class and enjoy an afternoon of networking. Email me at [email protected] if you would like to attend! Read on to learn more about Caroline below and this new fitness concept!
Interview with Caroline Levere of SHRED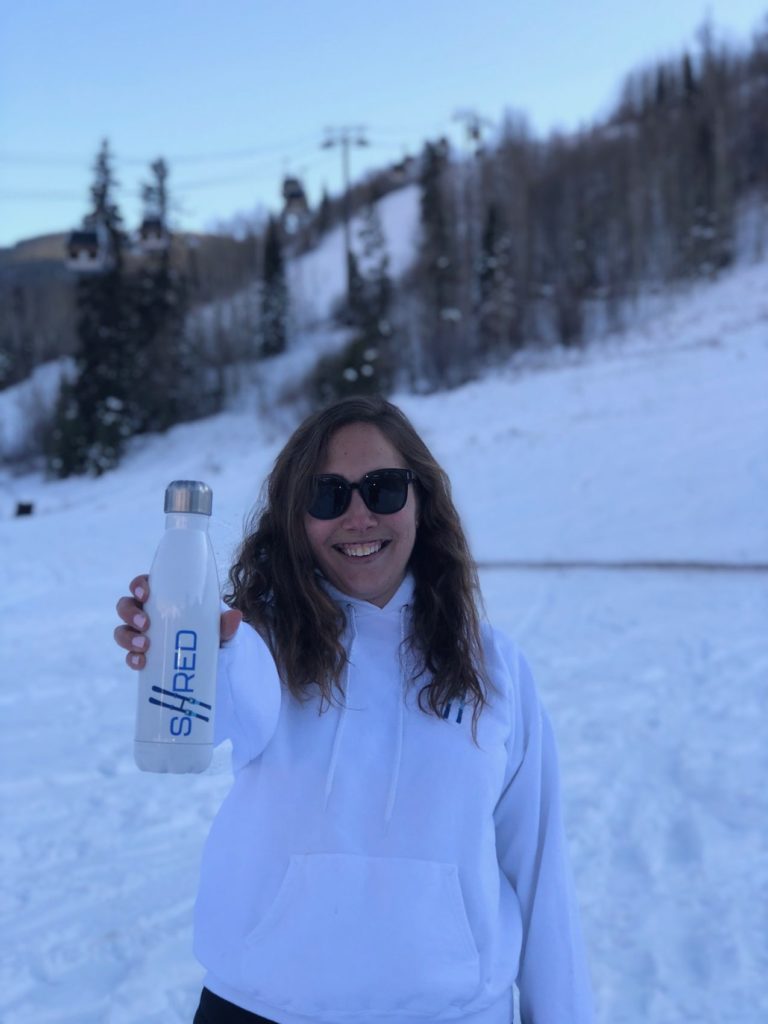 How did the idea for SHRED come about?
I've been a boutique fitness lover for years, and have noticed the increasing popularity of classes like boxing and rowing, which not many of us are doing in our everyday lives. I have been skiing since I could walk, and on ski trips with friends, noticed how they would get sore after only a few runs and not be able to make the most of our days on the mountain. I wanted to create a workout that not only was effective for skiers and non-skiers, but also brought the feeling you get when you walk into a lodge or are greeted by the lift operators to the fitness world.
How is SHRED different from what is out there?
SHRED is a full body workout that benefits skiers and non-skiers alike. We sought advice from the coaches of the US Ski Team (who fully approve the workout), the Sun Valley Ski Team, the Vail Ski Team, and other ski professionals. We are the only studio in the United States to use the skier's edge machine, a non-impact cardio machine that simulates skiing. Additionally, we put extra focus on balance and stability in all of our movements. Not only will this make you stronger for the slopes, it will also make you stronger for your everyday activities, whether that is walking, running, playing tennis or golf, or just living!
The SHRED workout is broken up into 5 components, which means the moves you are doing change every few minutes. There's no time for boredom in this fast paced class!
What can someone expect from a typical class?
Classes fly by! Everyone that has taken class has loved how fun and varied the workout is, so they don't check the time to see how long is left. It's a full body workout that incorporates cardio, strength, and balance work, so you really get everything that you need from this one workout. Expect to break a sweat, get your heart rate up, build cardio and muscular endurance, and have a blast. Also, don't be shocked if you are sore the next day! The workouts are challenging, but there are regressions and progressions for every move so people feel challenged within their own limits.
What are some of elements of skiing that are incorporated in the exercises?
The biggest element of skiing incorporated into the workout is the Skier's Edge. This non-impact cardio machine simulates the turning motion in skiing by going side to side while building your lateral leg strength and core muscles, and improving your balance. This machine is used not only by the top skiers in the world, but also by some of the world's top tennis players, golfers, and hockey and football teams.
When you're skiing down a mountain, you can't spend much time focusing on where your body is beneath you on the mountain, or you won't be able to pay attention to the turns ahead of you, people around you, and beautiful scenery. We try to simulate this with some of the balance and strength work in the "White Out" section of class.
Lastly, we focus on single-leg work, as when you are skiing, you spend 70% of the time with the majority of your weight on a single leg.
How are you trying to grow your community/spread the word about SHRED?
We are partnering with various local blogs, like the Local Moms Network, Scarsdale 10583, and Nextdoor Neighbor to get the word out about SHRED. We'll also utilize social media channels like Instagram (follow us on @shred_fitness@shred_fitness) and Facebook. We have loved talking with local businesses about SHRED and getting them excited to give flyers to their clients, ranging from places like Beginnings Boutique in Scarsdale to Athleta. SHRED will definitely host many charity events and participate in gift bags and silent auctions at different fund raising events, like the Mamaroneck Schools Foundation Annual Benefit. Word of mouth will always be a top traffic source for us, and we reward our clients for bringing their friends! For every person you refer, you get $10 in account credit.
One of our top goals is creating a community for our clients, where they feel like they are being challenged, building new relationships, and are excited to come into the studio everyday. We want everyone to feel welcome and at home at SHRED!
Tell us about the facility.
We created a facility that helps facilitate the sense of community we are trying to build. The reception area feels like a ski lodge, complete with a fireplace and furry stools. We have a great merchandise selection as well! The locker area is equipped with three showers, two bathrooms, and a fully-stocked vanity (blowdryers, dry shampoo, etc.). The rain showers and Malin and Goetz products make for a well deserved luxurious shower post-class. Our fitness studio has fun neon signs to create an awesome vibe and keep you motivated for the workout.
Anything else to add?
Our trainers are truly amazing. They are so knowledgeable, energetic, and motivating, and are excited to meet everyone and build a community around SHRED. Don't feel like you need to be a skier to love this workout – our non-skiers have all fallen in love with the class and the Skier's Edge machine.
The format and SHRED method will stay the same everyday for now, but ingredients and movements within each class will change daily. Stay tuned for more class formats as we continue the SHRED journey.
New clients can get their first class for free by using code LOCALMOMS on a one-class pack.