One of our new favorite traditions is to drive through Westchester's Winter Wonderland Drive-Thru Holiday Light Extravaganza, and see the 1.2 miles of holiday lights, larger than life displays, live characters, and Santa right from the warmth and safety of our car. Presented by Westchester Medical Center Health Network and Westchester Parks Foundation, this dazzling re-imagining of lights is such a fun way to see and experience the magic of the holiday lights.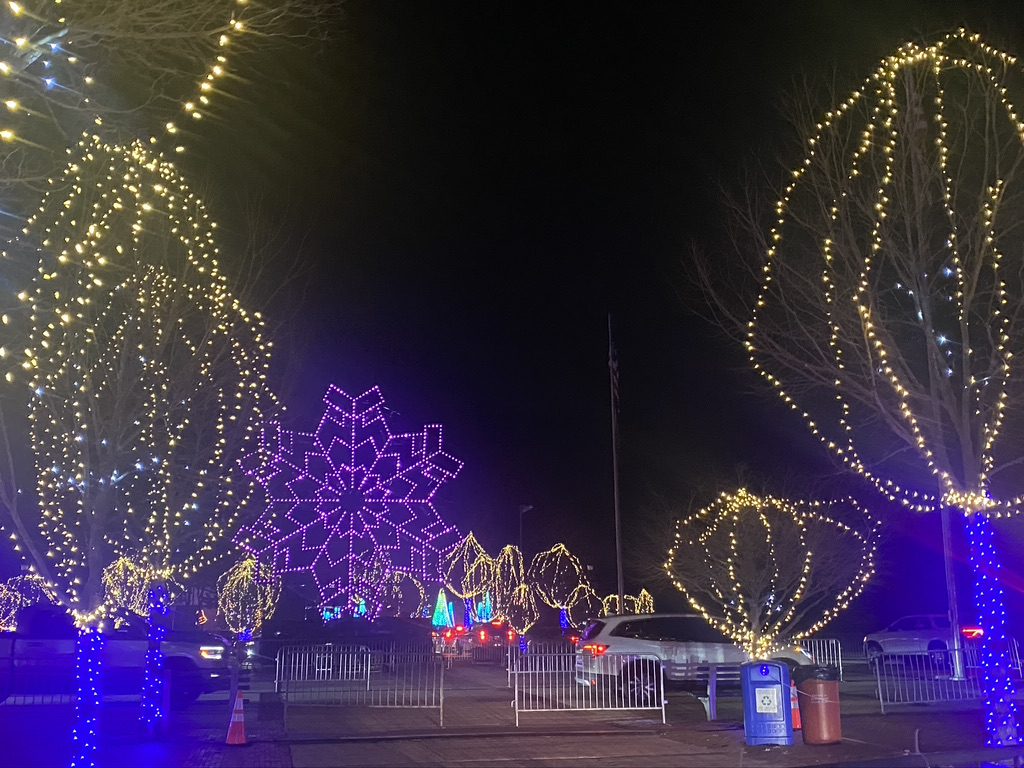 Equipped with hot chocolate and holiday tunes, the kids and I were so excited to experience the holiday magic at the Kensico Dam Plaza and the process couldn't have been easier.
We got our tickets here (which are available until January 2, 2022), then showed the QR code for access. After changing the radio to their suggested channel, we were in awe of the lights and spectacle with something new to see at ever turn. This included the beautiful angels of peace, 50-foot dove, dancing trees, glowing snowballs, candy cane lane, a sparkling 40-foot Christmas tree, and more!
The spectacular drive-thru 100-foot light tunnel was a favorite (also from last year), and of course, Santa where we stopped the car for a bit to hear his message of holiday cheer.
This year, they also had new attractions, including the Elf Disco, a display of children from around the world, a Peace on Earth LED display with animated trumpets and angels, and two new 30-foot snowflakes to light up the largest holiday Christmas tree in Westchester!  One of the kids favorites was the enhanced snowstorm central that seems as if we were in a snowstorm as bubbles came down the car. It was so cool and unexpected.
The actual drive-thru experience took around 30 minutes with the kids saying how much they wanted to go back.  Additional attractions include favorite elves Ned and Albert, glittering angels of peace, 50-foot dove, dancing trees, glowing snowballs, candy cane lane, a spectacular 100-foot light tunnel, Westchester's favorite 40-foot Christmas tree, Santa and friends, and more!
The celebration takes place five consecutive weeks through January 2, 2022. The event will be open seven nights a week starting at 6pm Monday-Friday and 5pm on weekends. *End times vary per night. Reservations are required to avoid additional surcharges. Tickets are $25 Off Peak, $35 Peak. Price is per vehicle NOT per person.(+additional cost for large passenger vans/limos, call for special reservations).
For complete information and to purchase tickets, visit winterwonderland.com    
This is a sponsored post.