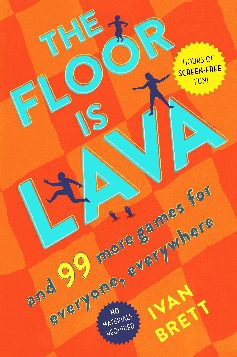 Summer is almost here! And while we are excited for the lazy days of summer, we are also looking for fun things to do with the kids that doesn't always involve technology. Enter the new book, The Floor is Lava, a compilation of 100 games to start a party, ideas to trigger a conversation, storytelling, puzzles and more–all without needing any materials. Written by Ivan Brett, The Floor is Lava features chapters that are devoted to different situations (traffic jams, long, hot summers, chill out time, and more) featuring games to help kids disconnect from technology while also spending some quality time with family or friends.
This includes ideas for every occasion, such as hosting a party, long car rides, cooling off on summer days, sitting around the dinner table, holiday gatherings, rainy days, and tons more. Filled with so many ideas and cool things to do, some of our favorites were "Similelarly," a game that creates smiles; "Locked Box," a guessing game; "Glom!," a nonsense talking game, and more!
Check out more videos from the book, below and get the book at your local bookstore or on Amazon.