Looking to buy or sell this year in Northern Westchester or beyond?   Our friends at William Raveis in Somers, Amanda Racek, Kisha Riviezzo and Melissa Naclerio share why listing your home before spring makes sense.
It's no secret that the spring market is the busiest time of year for real estate. But the truth is; ready, willing and able buyers are in the market 365 days of the year!
Here are a few reasons why you should sell your home now before the spring market.
1)  Greater number of serious buyers: A short reminder of supply and demand. The price of any item (including residential real estate) is determined by 'supply and demand.'     If many  people  are looking to buy an item and the supply of that item is limited, the price of that item increases. Agents across the Westchester/Putnam areas are in search for homes daily for our buyers. We are constantly posting our buyers needs. Buyer demand is still high! Buyers in the winter markets are truly motivated purchasers. They want to buy now! With limited inventory available in our markets, sellers are in the great position to negotiate. CONSIDER LISTING NOW!
2) Fewer homes for sale equals less competition: Spring time in our area is prime season for buying or selling and many homeowners wait until this time to list their homes for sale. Postponing the sale of your home until spring could result in greater competition due to a larger pool of available properties. If so, your house might get lost in the shuffle and sit on the market for longer than anticipated. But if you were to list your home NOW, less competition will make it easier for buyers to notice your property.
3) Interest rates can shift upwards: Although spring is just around the corner mortgage interest rates can shift upwards between now and then. When mortgage rates increase, purchasing power decreases. If you postpone listing your home and rates begin to rise, this may limit the number of buyers who can qualify for a loan to purchase your home.
Consult with our professional team to help analyze the data and guide you in the direction that works for you. Real Estate is all about timing!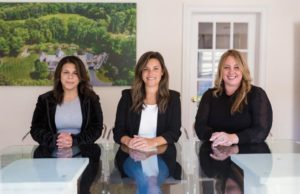 Kisha Riviezzo
Amanda Racek
Melissa Nacierio
William Raveis Somers
339 Route 202 Somers NY