There are so many things to discover in Northern Westchester, While we have lived here for almost four years, there are some areas I have yet to fully explore so I was thrilled when I had the chance to visit Kahlo Collective a few weeks ago and get to know more about the store and its owner Tami McCarthy. Described as a "conscious lifestyle" store, Tami created a hybrid store/experience where guests can both shop her incredible selection of ethically-made curated finds (jewelry, clothing, skincare, and tons more!) as well as enjoy the space via one of her many community events and workshops, which Tami notes "focuses on bringing together people, sharing experiences, and deepening the mind/body/spirit connection." Read on to learn more about Tami and this Pound Ridge gem below:
Get to Know Tami McCarthy, Founder of KAHLO
Where are you from originally and how long have you lived in your town?
I was born and raised in Baltimore, MD. But I've been a New Yorker ever since I came to NYC in the 80s for college. I've lived in Bedford, NY now for about 5 years. Prior to that I lived in Greenwich, the Hamptons and the Upper West Side.
What is one thing people would be surprised to know about you…
I'm shy, and I've performed sketch comedy Off Broadway in the city, go figure!
How did the idea for Kahlo Collective come about?
Kahlo Collective is a culmination of my personal wellness journey, along with my extensive 24-year career in lifestyle branding, marketing and PR. I also love to throw great parties where people have an unforgettable experience. And anything with a bohemian sensibility speaks to my heart!
As an agency owner, I helped brands of all sizes reach their full potential by creating fully-integrated communications programs. As a full service company I would create special events, PR campaigns, branding initiatives, whatever clients needed to take their brand to the next level.
At the same time, being an entrepreneur and a busy Mom, I was passionate about the wellness and beauty space. Through a series of life-altering events in my personal life, I eventually launched a self-care subscription for women and my own clean skincare line. I wanted it to be easy and affordable for women to take care of themselves and not feel guilty about it, so Salty Bath – a mindful spa retreat in a box – was born. And a year or so later, my line of clean skincare, TAMBRA: sea + botanicals launched.
As those brands grew, I realized that my dream was to transform the shop local experience right in my own neighborhood. I wanted to create a community hub where women (and really anyone) could explore all aspects of themselves as well as connect with others, and I wanted to bring all of my passions and expertise under one roof. When I saw the space that is now Kahlo, I knew that would be it. It had that special "it" factor that I was looking for – great interior space, a corner location, and an underdeveloped outdoor space that could be a little jewel in the community. As the daughter of shopkeepers growing up, I suppose this idea has really been part of my DNA all along, and now it's a reality!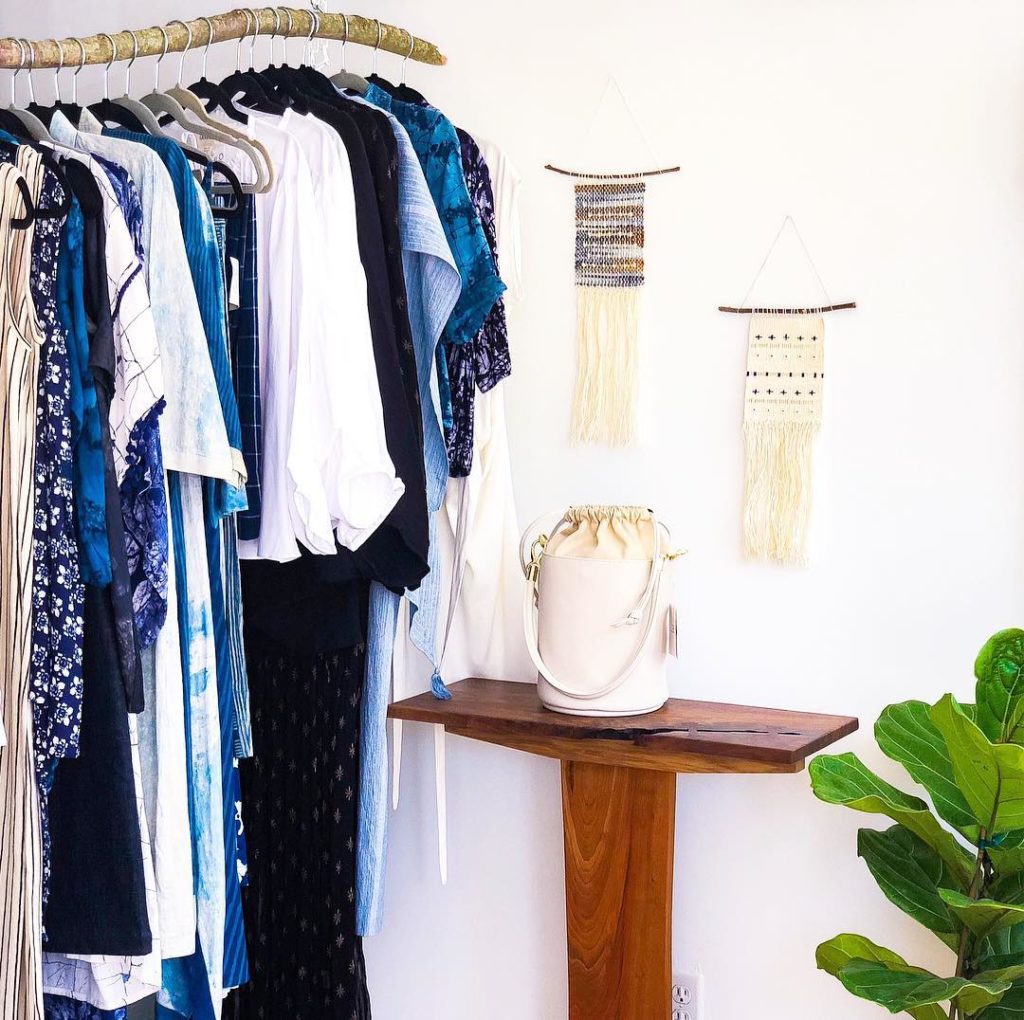 How are you reaching moms in the community?
Lots of social media and email marketing to moms so that they are informed about what is happening. The classes, workshops and events are one of the aspects of Kahlo that make us unique, and give Moms an opportunity to connect with other moms in a creative and fun setting. I love collaborating with groups like ABCNYMoms and other local bloggers, and I also partner with local experts and artisans who have their networks and together we create ways for Moms to find a creative or spiritual spark within themselves – these experiences are always so amazing to witness because it's about Moms exploring other parts of their identity, sometimes even getting out of their comfort zone. Some of the most popular workshops have been Mindful Knitting, Sip-N-Paint Nights, Numerology, New Moon Circles, Restorative Yoga + Meditation, and a workshop I did on Crystals, Essential Oils and Smudge Bundles. Moms have said they feel like they are at a spa when they come to Kahlo, I like that. I want to be that fun, special place they can go to to decompress, and ultimately, feel good about what they are buying or doing here.
What can customers expect at Kahlo Collective?
I truly love connecting with each person that comes in – and hopefully, that makes a difference in their experience. Everything in Kahlo is kind to people and planet, and gives back in some way – so we embrace slow fashion and fair trade, sustainably-focused practices. It's about making intentional, conscious choices. If you need a new pair of pajamas, why not buy a pair that helps keep women free from sex slavery and safely employed? Every brand we sell has a story, and you can feel good/do good every time you make a purchase.
People can also expect to have a full sensory, mind/body/spirit experience here – there is usually an essential oil blend diffused in the air, an ever-changing curated mix of handmade clothing, jewelry and home goods; and an apothecary of the amazing natural remedies to soothe whatever ails you. We also have in-store wellness services on a monthly basis from reiki healing to mindful facials and sometimes meditation or yoga. You never know what you may find, but we hope you connect with what speaks to your spirit.
What are some brands that you feature?
My plant-based skincare and hand-poured, all-natural candles brand TAMBRA are here exclusively, CBD products from Plant Alchemy. For fashion it's a mix of vintage, and ethical designer brands such as Malaika New York, Rujuta Sheth, Arteaga, Rory Worby, Lemuel of London. I'm excited about some new eco-brands I'm bringing in for Men and Kids! Jewlery is a mix of local and global brands such as Soko, Jess Palmer, Mindy and MAF, and COG. As always, I'm introducing new makers that are doing exciting things with sustainably sourced materials. There's so much happening with hemp, it's exciting.
As a business owner and mom, what are some of your go-to organizational tips?
My biggest organizational tip, is that I put everything in my phone and have various google docs or spreadsheets that keep my businesses organized. It also helps that I have a great husband who is also a business partner, so I can't compete with his color coded, handwritten spreadsheets, but he definitely keeps me on task! Which is really my main tip: try not to be perfect, you're human – you have to be able to laugh at yourself!
Why was it important for you to open a store locally?
Shopping is a hassle at best, and completely disappointing at worst. Malls are awful, energy zappers. Main Street looks the same in every town you go to. It's boring! I saw an opportunity to really transform local shopping – by bringing in exclusive handmade brands that you could not really find anywhere else, by creating an interesting space that felt good and happy to be in, where you could also have experiences that fostered connection to self and others. For me, the opportunity about "creating place" was the most exciting.
What are some of the challenges you are facing as a mom and business owner?
Owning a business and being a mom is not for the faint of heart. This past year, one of my sons had a very challenging health condition (and still does). When one of our kids is sick, it sets us back – emotionally and physically – and it becomes even harder to maintain a clear head when you've gotten no sleep and you have a business to run. That is when my self-care fallback routine – committing to taking a hot bath for 20 minutes and meditating at least twice a week – was what gave me my extra strength when I felt most depleted. It's not selfish to take 20 minutes to recharge. I had to remind myself about that many times. When women are faced with challenges, we tend to put our needs aside and focus on what is demanding our immediate attention. One of the biggest lessons for me as a business owner and mom was to take time out for myself, even it means scheduling it in my phone!
What are some of your favorite "me time" things to do in your area?
Getting out in nature – I love taking long walks in Ward Pound Ridge when the weather is nice. Meeting up with friends for lunch at the Inn at Pound Ridge or the Barn at Bedford Post is always fun too. Lately I've been doing Pilates sessions with Anna from Pound Ridge Pilates. It's important to me to have regular acupuncture, and Stephanie at Pryority Wellness is my go-to. If I have time to pop into the infrared sauna, that is a fun bonus!
What are some of your future visions for your business?
I'd like to have a retreat or dedicated wellness space that is an extension of the Kahlo experience, and continue to transform what "shop local" means in top cities around the country or world… Kahlo in Provence anyone?