This summer was completely different from our typically town camp routine. My older daughter was off to sleepaway camp; while my youngest finished out her pre-school camp program and my middle daughter went to theater camp.
While they loved mixing it up, it also meant that my middle daughter didn't have swimming lessons everyday. To supplement, we checked out the Jump Start Clinics at Goldfish Swim School Yorktown Heights, a four-day program that allows kids to brush up on their techniques, learn the fundamentals of water safety as well as to help them master new skills. The beauty of this program is that it focuses on "getting kids ready in a hurry" where they take 30-minute lessons over the course of four consecutive days.
After an easy registration process, I picked a time slot that would work for us where my daughter would have lessons at the same time over the course of four days with the same instructor.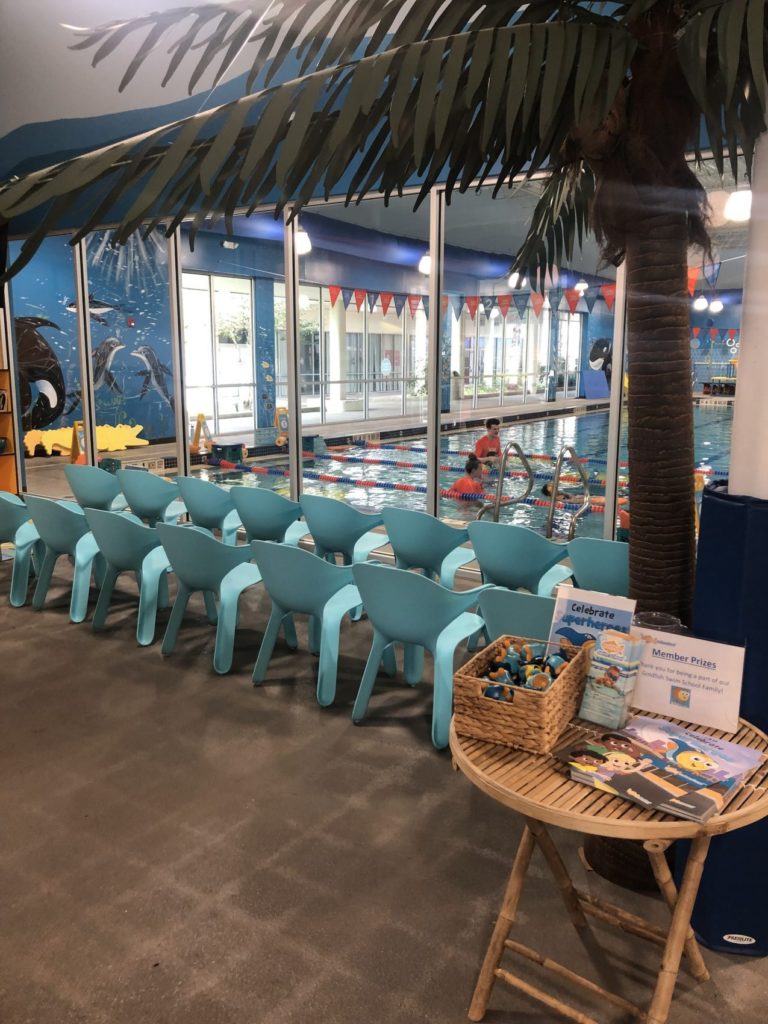 I was so impressed by the bright, fun space that was emblazoned with their signature goldfishes and pops of orange.The pool house featured spacious changing rooms and ample seating where parents and caregivers can relax and watch their kids swim, which was my favorite part of the experience. They did also have charging stations, tables for snacks and a toddler/baby area that was filled with toys and books–making it super convenient for everyone visiting the pool.
As for the classes, my daughter loved everything about her lessons. She was literally beaming after every class and so excited for her lessons the following day. At the end of every class, parents and caregivers can see the progress of what their kids did and I loved seeing her progress and then listening to her instructor tell her what she excelled at and what she had to work on.
It was pretty remarkable to see the changes in her form over the course of the four days. She learned how to have a stronger stroke and swim on her back, which she never really did before. Seeing her blossom in something she wasn't that excited to do in the beginning of the week was so magical. At the end oft the week, she received a certificate and swimming report card that showed us everything she mastered and what level she progressed to. She was so proud of her ribbon, which she happily displays in her room, and more than that, she had the best time at the school and can't wait to go back!
While the Jump Start Clinics are held during select times during the year, Goldfish Swim School offers swim lessons all year long, for kids four months old to age 12. They offer different levels, depending on your child's age and ability, that is paid per month. They also offer classes throughout the day, making it a super convenient for busy families. Additionally, they offer a family swimming program where students and their families can enjoy a fun afternoon at the pool for just $5 per person.
Visit Goldfish Swim School Yorktown Heights at 92 Triangle Center, Yorktown Heights, call 914.440.3330 or check out even more of their programming here.
We were provided swimming lessons for the purposes of this review.