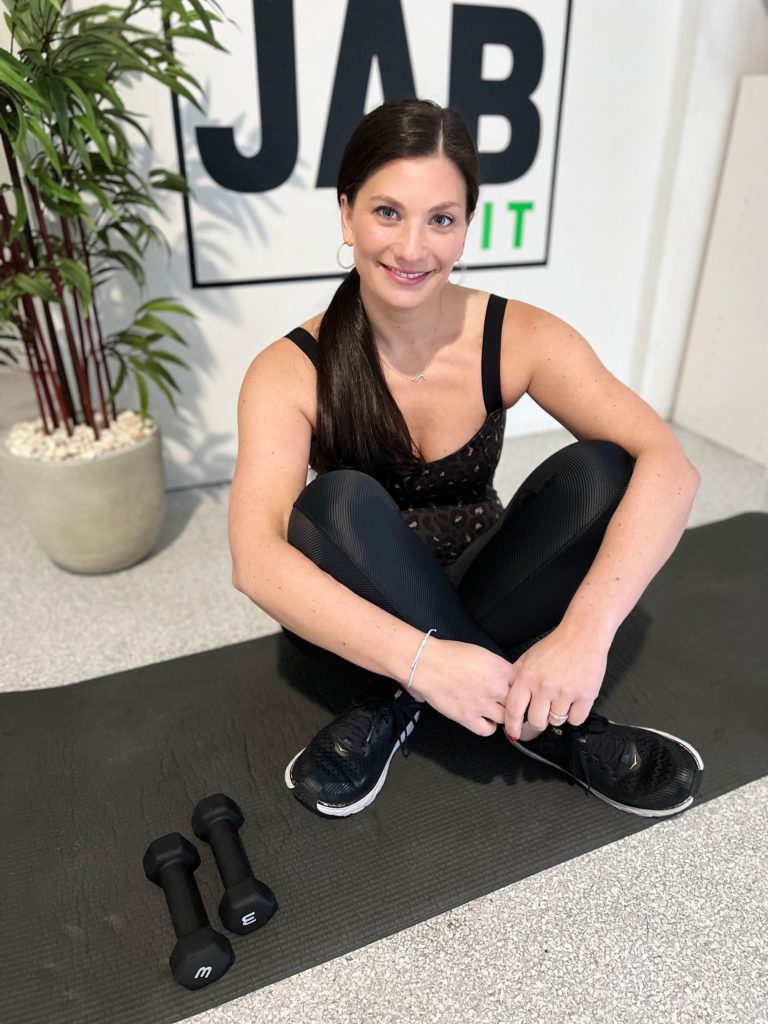 Exciting news! Local mom Jaime Barr is opening The Collective by JABFIT in her hometown of Chappqua. A new boutique fitness and lifestyle lounge, The Collective by JABFIT offers boutique fitness classes for adults and an incredible kids' program with local partners such as Creative Crafting with Masha Dasha Design, Fitness Fun with Never Stop Moving, and a Baby and Me Class. We are also excited that Jamie is offering all Northern Westchester Mom readers 10% off the adult group fitness introduction class package or 10% off any baby or kids spring class sessions! Simply use the code NWM10 at checkout.
Read on to learn more about Jaime and The Collective by JABFIT! Stay tuned to her social media platforms for news about her opening (soft-opening — pending all inspections — the week of April 18th, with an opening party on Saturday April 23rd.)
Meet a Mom: Jaime Barr of The Collective by JABFIT
Northern Westchester Moms: Tell us more about your family and where you live.
Jaime Barr: I actually grew up in Chappaqua and now live here with my husband and three daughters (8, 5.5, and 2.5). My parents still live here, both my siblings and all their children live here…it's a very special place. There are actually lots of Chappaqua alumni that have moved back which speaks to how wonderful it is to raise a family here.
Northern Westchester Moms: Has fitness always been a part of your life?
Jaime Barr: Not fitness specifically, no. I always played sports as a kid, in high school I played basketball and did cheerleading. But I never loved the gym. When I was in my 20's living in the city, I was traveling so much for work and I was in a long distance relationship (with my now husband) and I just wasn't taking care of myself. So I decided to see a nutritionist (who happened to also grow up in Chappaqua!) and I started doing 20 minute workout dvd's in my apartment, and lost 40 pounds in about 6 months. It was such a realistic and practical approach to eating and finding workouts that felt manageable and fun for me, that it just changed my whole mindset and made me excited about fitness and living a healthy lifestyle. It unleashed a passion that I didn't know I had.
Northern Westchester Moms: How did the idea of The JAB Fit Collective come about?
Jaime Barr: I was in the fashion industry for about 15 years doing design and trend forecasting. After a while it became a hamster wheel, and I just felt burnt out. During maternity leave with my youngest in 2019, I decided to get my training certification through the National Academy of Sports Medicine (NASM). It was online so I was studying while still commuting to the city for work. Then COVID hit and I lost my job in May of 2020 and figured it was now or never! So I took the leap and started teaching outdoor group fitness classes. It just grew from there!
Northern Westchester Moms: We are so excited for your new location in Chappaqua! What made you decide to open a brick and mortar location? 
Jaime Barr:  My goal from the beginning was to eventually have a women-focused space that felt like an escape. A place you could do all the things…workout, eat, relax, shop, be with friends, be alone, whatever! After 2 years of teaching out of my garage studio, I really felt like I wanted to do more for this community that I had built…and I couldn't do it out of the garage. So on a whim last summer I went to check out the space in town…and it all kind of happened quickly after that! I wrote a business plan, I secured funding from a bank, and signed the lease and off we went!
Northern Westchester Moms: How is The Collective at JAB Fit different from what's out there?
Jaime Barr: I wanted a community space that targeted women specifically- and allowed for a little bit of everything. Especially as we come out of the Pandemic, we are all itching for a sense of togetherness while allowing us to get out of the house and be with people outside our immediate families. Nothing like that exists. The Collective will allow women to exercise (if they want to), gather and chat with friends, buy themselves a cute new outfit, or just throw in headphones on a laptop and zone out! It's a place to just "be". I want it to truly feel transformative as soon as you walk in…like you can take a deep breath and have time for yourself.
As a mom of three, I also felt like the space could add even more to the community by offering Kids and Baby classes. It's a market that is lacking in this area…there is never enough for the kids. So I've partnered with a bunch of other local amazing women-owned businesses to provide baby and kids classes that include everything from sensory and mobility for the really littles, to arts and crafts and fitness for the big kids. It's truly a holistic space!
Northern Westchester Moms: What are some of the classes we can expect at The Collective at JAB Fit? Ages the classes are geared towards?
Jaime Barr: The adult fitness classes will run every morning Monday through Saturday. All classes will sit under categories such as HIIT, Tabata, Strength, Dance Cardio and some fun fusion workouts that are in the works. Most classes will be anywhere between 50 minutes and 1 hour in length. Myself and the other instructors will always offer modifications for moves to accomodate all fitness levels and any injuries, pregnancy, etc. I've had clients taking my classes right up until they give birth with plenty of modifications! Our baby classes which will run at various times are geared towards 0-12 months, our pre-k classes are 18 months-4 years, and our after-school classes are for K-5th grade. All of our kids and baby classes are currently up on the site and run in multi-week package sessions.
Northern Westchester Moms: You're also going to have a boutique/retail experience. What are some brands that will be showcased in the space?
Jaime Barr: Yes! I could not be more excited about the brands I'm launching with. They are all activewear and lifestyle brands that I love, have great quality materials, and most importantly….amazing FIT! You can expect to see brands such as Beach Riot, Splits59, Wear It To Heart, L*Space, Lele Sadoughi, Bala, Roam, Strut-This, and a bunch more!
What advice would you give for other moms/entrepreneurs at the beginning stages of their business? It's never too late and there's always a way! The whole process of career pivoting or re-entering the workforce after a long break is such a daunting place to be mentally. But if you take it one step at a time, piece by piece…it's all possible. I got a LOT of no's from banks in the beginning because I hadn't been in business for long enough in their eyes…and I just kept going. Don't get me wrong there were plenty of tears and lots of frustration but I have an incredible support system in my family and friends and somehow I got through it. Every day continues to be a roller-coaster but if you're passionate about something…it's always worth it!
Northern Westchester Moms: Where are some of your favorite places to go in Chappaqua and the surrounding area?
Jaime Barr: Oh my gosh there are so many for different things. When I get a second for myself, my favorite spot to do hot yoga is Rebel Yoga in Thornwood. For my kids I'm in Hip Kid all the time along with &James in Katonah and I love All Together Now in Mount Kisco/Tarrytown for gifts! I also always try to make an escape, even if just for the day, to Cold Spring and Beacon. I will go for a big hike, have a great lunch and do some retail therapy. If I can squeeze in an overnight (which is RARE!!!) I usually stay at the Roundhouse in Beacon and go eat a delicious meal at Melzingah Tap House which is walking distance from the hotel. Even just 24 hours away makes a huge positive impact on my mental health.
Northern Westchester Moms: Anything else to add? When are you opening?
Jaime Barr: I'm just so excited to be opening this space in the town in which I grew up. I can't wait to turn on the lights and see all the women come and relax and enjoy themselves. We will be soft-opening (pending all inspections go as planned!) the week of April 18th, with an opening party on Saturday April 23rd. The baby and kids class schedules are up and open for registration, and the adult fitness class schedule is also live! Chappaqua is a unique tight-knit community and I feel very fortunate to have such a strong supportive army of women and family around me. I just can't wait!
Visit Jamie at The Collective by JABFIT – opening soon!