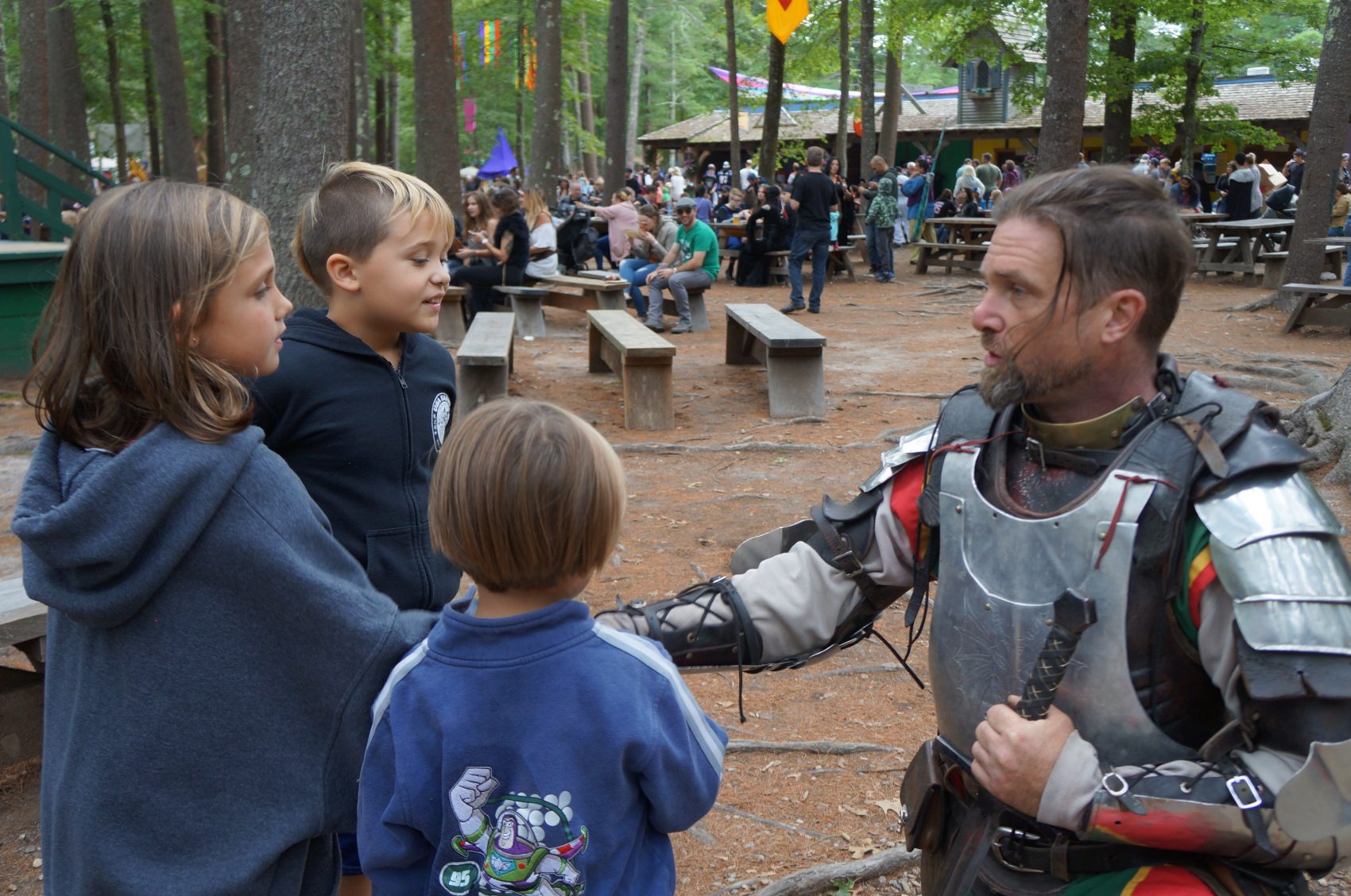 We are all so excited for all of the fun fall events amping up this holiday season. One that's on our radar is a visit to King Richard's Faire where entertainment, exciting rides and skilled games abound on the Faire's enchanting 80-acre wooded site.
Open on the weekends and on Monday holidays from August 31-October 20, 2019, you'll be dazzled by acrobats, aerialists, and jugglers! Be captivated by minstrels, dancers and puppeteers and enthralled by fire-eaters, magicians and exotic tigers. Hundreds of talented performers perform non-stop for you throughout the day on any one of our eight vibrant stages. The King's handsome knights battle on horseback as bawdy beggars compete in mud. Wacky wenches will leave you in stitches while happy villagers engage you in the lanes. Frolicking faeries can be seen dancing through the forest, where you can try your skill in his majesty's Gaming Glen.
Afterward, epicurean pleasures suited for royalty, will tantalize even the pickiest of taste buds. Satiate thy palate with giant spit-roasted turkey legs, ringlets of fryes, and boules of chowder or stew, and quench thy thirst with champagne, specialty cocktails, wine and brew.
Many of the King's talented artisans journey from around the globe and have much to offer all who enter the gates of Carvershire. Discover beautiful handspun pottery, fabulous jewelry, and incredible face painting. Delight in period clothing, leather, armor, and moccasins. Be amazed by our blacksmith and forged weaponry and other works of art. Revel in scented oils, perfumes, handmade crafts and psychic readings as you make memories to last a lifetime.
New in 2019: a new King Richard XI to lord over Carvershire with his lovely bride, Queen Anne and visiting princesses in the village to sample talented artisan wares, food and drynk, and entertaining new performers. New to the entertainment lineup in Carvershire this year: The Accidental Acrobats, a duo of contortionists; Sir Guy, the comedian; Kasam the Masked Master; GoGaucho, a dynamic blend of dance, music, comedy and other tricks; and mesmerizing music from Moon Chariot and piping by the Portland & District Pipers.
VISIT KING RICHARD's FAIRE:
FLASH GIVEAWAY!
We are excited to be giving away a family 4-pack of tickets to OPENING weekend (on 8/31).
To enter:
1. Sign up for our newsletter: https://mailchi.mp/929dc8c42e16/abcnymoms-newsletter
2. Like @KRFaire and @ABCNYMoms on Instagram
We will randomly select one winner by August 24th at 12pm EST. Tickets will be mailed and are only valid for opening weekend.