My family and I recently enjoyed a delicious dinner at KUMO Sushi Lounge. It is very rare for us to enjoy a dinner out but KUMO recently opened an outdoor area for lunch and dinner, and I was intrigued to learn more.
Upon arrival, my family and I were seated in one of their open-aired seating areas where we looked at the menu that was filled with tons of traditional Japanese offerings. And KUMO had so much to offer! The incredibly well-crafted menu had tons of offerings, including an impressive selection of rolls, platters, entrees, fried nice, noodles, appetizers, and tons more! We decided on a array of options, including the kids' favorite avocado roll, California roll, edamame, and udon noodles. There was so many delicious options that it actually made it hard to choose, but I finally decided on the Ocean Roll which was comprised of tuna, salmon, and avocado topped with lobster salad and tobiko and my husband opted for the Crazy Tuna Roll with spicy crunchy tuna and avocado instead. We also ordered salmon sashimi, vegetable tempura, miso soup, and some sake.
Within a few minutes (or at least it felt pretty quick), colorful plates, bowls, and trays arrived to our table as the girls excitedly dug in and started to devour their dishes. The food was incredibly fresh, made with fresh fish that is sourced from the famous Tokyo fish market everyday. The rolls were bursting with flavor that showcased KUMO's dedication to freshness and their creativity. I loved how vibrant and well-constructed the rolls were that made them beyond decadent and memorable. Everyone kept saying how good it was in-between bites and how it was some of the best sushi we've ever had.
A family-owned and super family-friendly option, it was such a treat to enjoy such a well-crafted meal as the staff worked tirelessly to make sure everything was in order and safe for our party and everyone dining at KUMO. The only time we had to move around with masks was to go to bathroom or when we left, other than that we enjoyed our dinner together in our own self-contained dining pod.
During my visit, I also enjoyed a tour of the inside of the restaurant with its sprawling and well-stocked bar (currently closed due to COVID) and beautifully displayed sushi bar. Inside, I was also impressed by the elegant and modern layout emblazoned by circular lights and leather seating.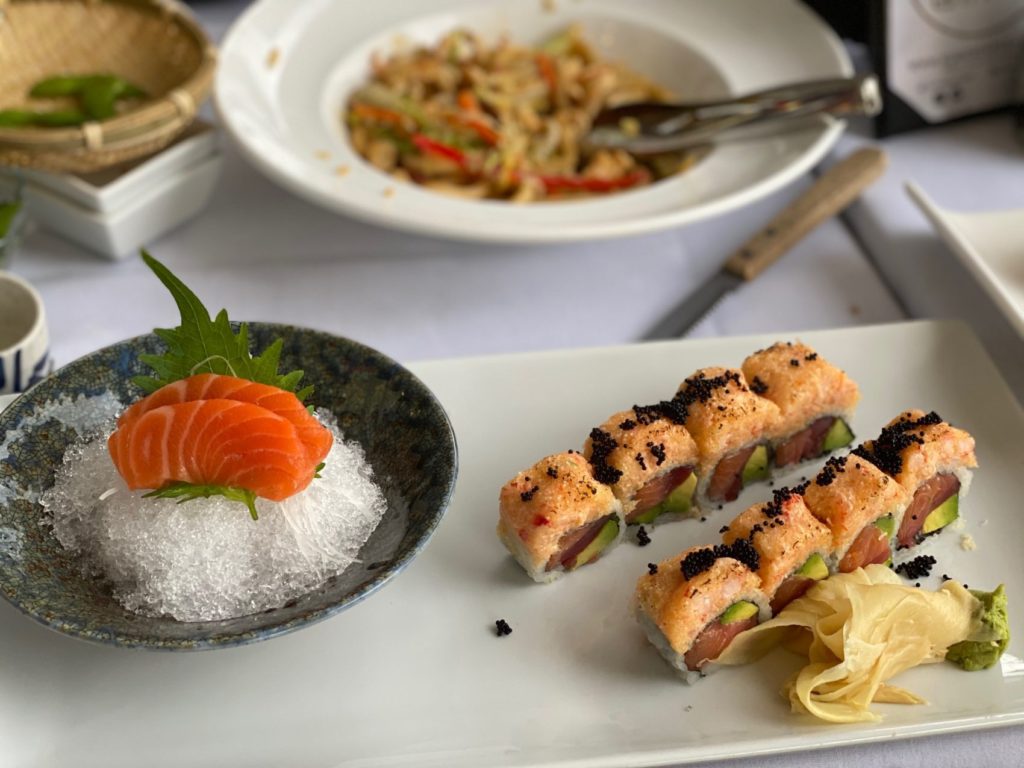 If you aren't comfortable with either of these dining options, KUMO offers free delivery everyday (within a 3.5-mile radius) for order over $20. Food can be ordered for takeout or delivery online via ChowNow. During our visit, I saw tons of people taking advantage of this service as staff at KUMO were bringing bags of food to cars as well as people waiting outside for pickup.
Whatever option, you choose, one thing is for sure: KUMO serves up some impressive sushi and Japanese offering that definitely ranks as some of the best sushi in Westchester.
KUMO Sushi Lounge Hours
Mon-Thur: 11:30am – 10pm
Fri-Sat: 11:30am – 11pm
Sunday: 12:30pm – 10pm
Seating is currently on a first-come-first-serve basis.
KUMO's sister restaurant is MIKU SUSHI in Greenwich, Connecticut.
Visit KUMO Sushi Lounge in Scarsdale at
777 White Plains Rd.
Scarsdale, NY 10583
I was provided with a complimentary meal for this review. All opinions, as always, are my own.