Exciting news from Westchester County Executive George Latimer who recently unveiled the County War Dog Memorial to honor our four legged heroes. The Friends of Lasdon Park & Arboretum raised more than $40,000 to create and erect a memorial statue dedicated to hero dogs in the military to compliment the Trail of Honor which is a tribute to all of our military veterans.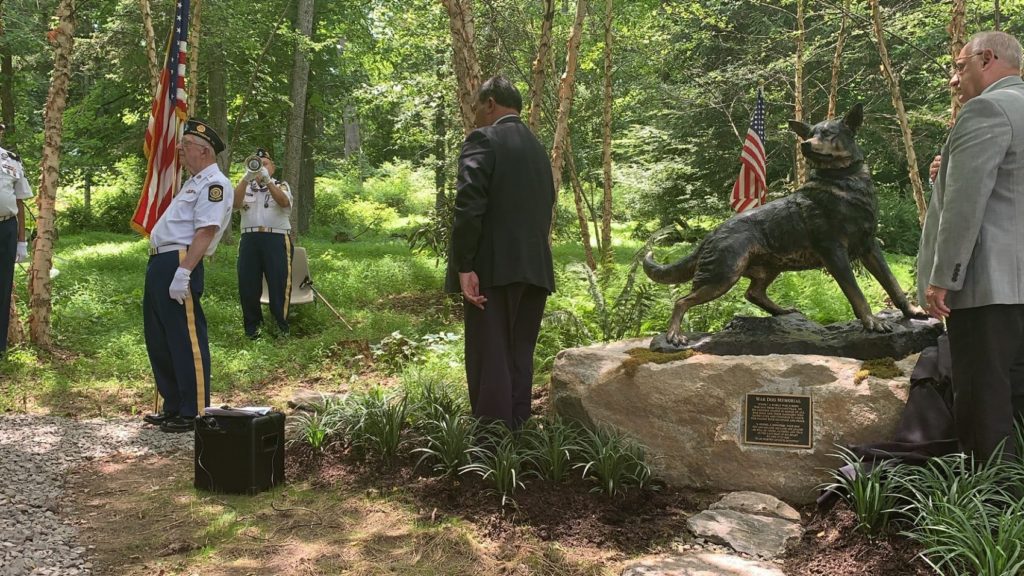 The statue is a sculpture based on a World War II War Dog named "Chips," who hailed from Pleasantville. The sculpture will pay tribute to the thousands of service dogs who have fought to protect our nation's soldiers in violent war zones.
Chips was a German Shepherd-Collie-Siberian Husky mix who trained for the United States Army, and is reputedly the most decorated war dog from World War II. Chips shipped out to the War Dog Training Center, Front Royal, Virginia, in 1942 for training as a sentry dog. He served with the 3rd Infantry Division in North Africa, Sicily, Italy, France and Germany. His handler was Pvt. John P. Rowell. Chips served as a sentry dog for the Roosevelt-Churchill conference in 1943. Later that year, during the invasion of Sicily, Chips and his handler were pinned down on the beach by an Italian machine-gun team. Chips broke from his handler and jumped into the pillbox, attacking the gunners. The four crewmen were forced to leave the pillbox and surrendered to US troops. In the fight, he sustained a scalp wound and powder burns. Later that day, he helped take ten Italians prisoner. Chips was discharged in December 1945 and returned to Pleasantville.
The statue was created by artist Lena Toritch, MFA, a sculptor with Young Fine Art Studio, Inc. in Salt Lake City, Utah whose stunning pieces have been placed throughout the Country for military and police personnel. Ms. Toritch was in attendance for the event.