We are excited to bring you our 2023 Northern Westchester Moms Women Owned Business Guide!   We have found some gems that own some great businesses in the Northern Westchester area!
Browse
Browse is a personal shopping assistant that searches for all of your fashion needs. Kristine started browse knowing how busy many women are and either simply don't have the time to shop online or are overwhelmed by countless options. Going through the browse process is personalized and simple leaving clients with a carefully curated look book suited to their needs.
Address/ info
Kristine Mancuso
Contact- [email protected]
IG- browsewithus
Discount- 50% off capsule look books for Northern Westchester followers
The Lovesol Experience 
The Lovesol Experience @thelovesolexperience specializes in airbrush tanning, tooth gems and handmade cosmetics is owned by Krista Falardo.
Tooth Gems are non-invasive; they don't damage the tooth or enamel and are semipermanent.  Krista created her own line of cosmetics which can be purchased in suite, online, or at any pop up event she attends. They are vegan, and cruelty free!
Krista is currently taking orders for events: bday party favors, bridal parties, beauty salons, boutiques, and med spas!  She customizes color, flavor, lip gloss tubes, and logos! You can also book her for a lip balm or lip gloss making party!
Krista wants you to have $20 off your first tan! Just mention you saw this blog!
THE LOVESOL EXPERIENCE is located at 692 rt 6 Suite 201 in Mahopac!
Evie's Cleaners
Evie's Cleaners specializes in deep cleanings for commercial and residential clients throughout Westchester County. Our team focuses on delivering quality and excellence with every cleaning.
Very Lovely Soles
Very Lovely Soles is about effortless style that is coveted for a perfect balance of fashion, comfort, and value. Our philosophy is simply about creating beautiful products for  clientele who buy for quality and a personal connection to the product & brand. Here we believe we are on this journey together so why not feel great, and look great along the way. Effortlessly chic. Timeless. And always comfortable. – VLS
VERY LOVELY SOLES
282 KATONAH AVENUE #221
KATONAH, NEW YORK 10536
USE DISCOUNT CODE: NWM23 TO RECEIVE 30% OFF EXPIRES 9.1.2023
Ashley Farr Regan- The Lauren Zaccaria Team at Houlihan Lawerence
As a woman-led, award winning real estate team, The Lauren Zaccaria Team at Houlihan Lawrence is dedicated to providing unparalleled service for buyers, sellers, and investors throughout Westchester, Putnam, and Fairfield counties. Embracing female leadership and our commitment to Creating Happily Ever Afters for our clients, we're the team you can trust to help navigate the real estate market and guide you seamlessly through your real estate endeavors.
Ashley Farr Regan of The Lauren Zaccaria Team at Houlihan Lawrence
Ashley Farr Regan
NY & CT Licensed Real Estate Salesperson
2022 Five Star Professional Rising Star
Certified Buyer Representative
Military Relocation Professional
Neighborhood Real Estate Specialist
The Lauren Zaccaria Team at Houlihan Lawrence

Lauren Baptiste- Acheloa Wellness
Lauren Baptiste is a life coach for the hardest-working women who want to have it all without the hustle or burnout. Her company, Acheloa Wellness, uses a 5-pillar methodology to give passionate, ambitious women the tools to thrive in their careers and feel balanced at home.  Lauren is right for you if you're feeling stuck as you're exploring a career transition (i.e., promotion, layoff, new role, business owner), and no longer able to juggle it all like you used to.
Book a complimentary consultation call to see if working with Lauren is the right fit for you.
All of our coaching is done remotely
Book consult call: https://acheloawellness.as.me/breakthrough-session
Email: [email protected]
IG: https://www.instagram.com/acheloawellness/
Anyone who signs up for coaching and mentions "NWM" will receive a special gift.
Roonee Tents and Events
With a zest for creating styling and design, RooNee Tents soon became Tents & Events.
Offering not only amazing slumber parties for kids and big kids alike, from styling and setting up to planning the party with crafts, favors snacks/drinks, leaving no stress for the host.
COMING SOON Micro Events and Intimate Occasions, with gorgeous tablescapes on handmade picnic tables, surrounded by rugs, cushions, and throws for comforts as well as style.
Whether it's a romantic date night, family gathering, baby or bridal shower, anniversary, brunch, birthday or just because, RooNee organizes it all and just leaves you smiling at the results.
MG Interiors
Through design, organization, and lots of thought, great spaces are created that suit your taste. Michelle Gray of MG Interiors can help you put individualized systems into place to make your lifestyle flow that little bit easier.
Let's Make a Play with Serena Norr
Let's Make a Play is an immersive playwriting program for kids and adults. Starting from idea to a full play, the class includes a discussion about the structural components of developing plays as well as character development, establishing tone, setting, and creating structure. The program also includes improv, acting exercises, readings of scripts, prompts, group sharing, and more. The last class culminates with a staged reading of the students' 10-minute play.

Loren Nails Mobile Services
Loren Frances Mom Business Owner Of Loren Nails Mobile Services 
Loren opened Loren Nails Mobile Services at the end of 2018 when she decided to bring together her passions to help people who are busy, stressed and who cannot leave their houses for some reason. She offers services and flexibility for individual clients by working from homes or locations, spa parties, birthdays, bachelorette and more. She received formal training at a prestigious school in NYC. Her focus is delivering the best high-quality care and all that she does. Her team feels so grateful to serve the cities in Westchester County NY, NYC, Fairfield County CT and all surrounding areas. She sincerely enjoys building lasting relationships with all her clients. If you want to know more about her and her business.
Contact : 914-8178353
Follow on Instagram @lorenn_nails  or check her website. http://lorennailsmobileservices.com
Harmonie Salon Studio
The Grand opening of Harmonie Salon Studio is May 13 3-7pm
Harmonie Salon Studio
237 East Main Street
Mount Kisco NY 10562
book on vagaro: harmoniesalonstudio
914-218-3317
I have worked in Mount Kisco for over 20 years in top salons like the former Richard Scott and Paulos Atelier. I am a Mom of 3 boys and I decided to have my little relaxing oasis. A Full-service salon, blowouts, smoothing treatments, color highlights, several certifications in extensions. Now offering make up by appointments only. Our vibe is relaxed, friendly and Harmonious!
Mention Northern Westchester Moms and get 10% discount on products and hair service at full price. not combined with other promotions.
Vegan Chef Elyce
Vegan Chef Elyce is a private chef, educator and plant based diet consultant. She helps individuals that want to add more plants to their plate. She co-creates menus with her clients that suit their needs and then shops, cooks and cleans up, leaving them with a fridge and freezer full of healthy and delicious meals. For her clients that prefer to cook for  themselves, she will come and cook side by side and teach them how to create her plant based recipes in a simple, easy fashion.
Want to reach Vegan Chef Elyce?   Connect with her on Instagram @veganchefelyce
WHEN & WHERE
WHEN & WHERE is a sustainable, innovative athleisure brand that brings the power back to busy, active women by providing them with smart, stylish and versatile outfit options that they can wear any time, any place, all throughout the day.
Our multi-tasking capsule wardrobe solutions take you through all of your daily activities without the need for multiple outfit changes. Whether you are going to the gym or to a meeting, our clothing can handle your challenging schedule with ease, so you can feel in control, polished and put together regardless of where your day takes you. Choosing an outfit will be the easiest decision you make all day. #LiveinWW
Learn more about WHEN & WHERE on Instagram
Simple Organized Solutions
Simple Organized Solutions. SOS is a professional organizing business that really does it all. Whether you are moving in, moving out, or just needing an overhaul in a small space or the whole house, we are there. We believe in recycling so often times when clients are purging we will sell, donate or recycle all of the items we need. We also LOVE to network and connect with other small businesses in the community in an effort to help our clients and others in the community.
Click here to learn more!
Mention Northern Westchester Moms for a free consult.
Sprinkled Baubles
Meet Elizeth, owner of Sprinkled Baubles and balloon master ! I am in love with the art of balloons and the happy faces that get to enjoy them !
SprinkledBaubles offers the art of balloons creating organic balloon art enhancing any event and celebrating the ones you love with whimsical balloon creations.  We create magic everyday!
We are committed to using 100% natural latex balloons which are biodegradable and follow the Pro Environmental Balloon Alliance (PEBA) standards  making our world a healthier place one balloon at a time !
Based  in Chappaqua, NY
Please contact me directly:
Text or call – 914.299.1870
Email : [email protected]
Find us on Instagram!  Sprinkledbaubles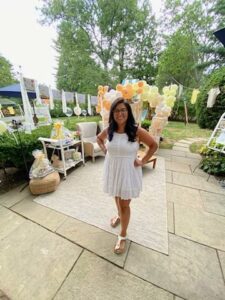 The Edible Gardenist Hillary Marra
Hillary Marra, The Edible GardenistTM, brings contagious joy to family food!  With her signature hands-on, fun, and genuine approach, Hillary has taught edible gardening and cooking to thousands of children–from  toddlers to teenagers– educators, and families for over 20 years.   With her coaching, workshops, and teaching, she takes the stress outof family meals and helps parents share love, joy and connection in their kitchens every day.
Follow Hillary at
@theediblegardenist
and reach out to Hillary for info on 1:1 and group beginner garden sessions.
Picture Perfect Backdrops
Picture Perfect Backdrops is a Connecticut based backdrop rental company servicing Connecticut, Westchester County, Putnam County, New Jersey and beyond. Make your event extra special by renting one of our many backdrop and neon sign options. Whether you're planning a wedding, baby shower, bridal shower, birthday party, or bachelorette party, we have a look for you!
Cucina Allfra
A EASIER WAY TO EAT AT HOME
Hi my name is Francesca, I was born and raised in a Italian household where food and family gatherings were a big part of my life. My passion for cooking started at a young age, when home for summer break I would make my little sister pancakes.  If your gluten free, vegetarian or just want to eat healthier! I can help. Now I get to cook  and showcase my home cooked meals for one and for all.
Francesca Albanese
Cucina.allafra LLC
(914) 220-2246
www.cucinaallafra.com
Fb: @cucina_allafra
Instagram: @cucina_allafra