The Local Moms' Westchester 2019 New Year, New You Guide: We're firm believers in Moms needing to put their oxygen masks on first. Wearing a lot of hats, from chauffeur to short order cook to therapist (and that's all before 9 a.m.!) isn't easy. That's why this year our New Year's resolution is prioritizing self-care, starting with this amazing list of Westchester-based spas, dentists, fitness studios and more! We turn to these wonderful local businesses when we need to recharge our batteries and health, and revamp our looks, and we hope you will, too! Don't miss the great deals and discounts they're offering especially for The Local Mom Network readers. And cheers to 2019—and to you, mama!
Club Pilates is a dynamic group of boutique Pilates studios, with four locations in Westchester. Club Pilates Port Chester is opening January 14, joining popular Club Pilates studios in Ardsley, Mt. Kisco and Scarsdale. They all provide premium, reformer-based group classes for everyBODY. Pure to Joseph Pilates' original method—but modernized with state-of-the-art equipment—Club Pilates offers high-quality, life-changing group and private training at an affordable price and convenient class times. They believe that being in control of your body helps you to be in control of your life. The best part of the Club Pilates experience? You can start at any fitness level, at any time. Click on the buttons below to schedule a free intro class at the Club Pilates nearest you!
20% off first month when you mention the Local Moms
CrossFit Port Chester offers over 40 CrossFit classes 7 days a week. CrossFit is constantly varied functional movements performed at high intensity. All CrossFit workouts are based on functional movements, and these movements reflect the best aspects of gymnastics, weightlifting, running, rowing and more. These are the core movements of life which simply means everyone should be doing CrossFit and EVERYONE CAN DO CROSSFIT.
JANUARY 2019 special for new members.
Our GET FIT STARTER KIT gives new members a flavor of all we have to offer. New members can redeem this $300 value for FREE using offer code: GETFIT19. This includes:
1 evaluation
1 personal training session (1 hour with the trainer of your choice)
1 recovery service: cryo facial, whole body cryo, sauna (rejuvenate, help blood flow, reduce inflammation, rid toxins)
1 strength and rehabilitation session (get out all the aches and pains through icing, heat, stretching, massage tools)
No hidden fees, no membership. Just a commitment to your GET FIT STARTER KIT. This offer ends 1/31/19!
Come see why F45 Training Port Chester was called the "Future of Fitness in Westchester" by Westchester Magazine and join our Team today! Why F45 Training – it's FAST, EFFECTIVE and FUN! Two Personal Trainers in every class, world class technology and a new total body workout (no treadmills!) everyday ensure you'll stay motivated and crush your goals! Team Training, Life Changing.
Promo
Try us for 7 days for only $7
30% off your 1st month when you sign up for an unlimited Month to Month or Year Membership in the month of January.
Mf3 is an intimate boutique Megaformer fitness studio with a SoHo vibe located in Larchmont. The Megaformer, designed by celebrity trainer Sebastian Lagree of Lagree Fitness, delivers a high-intensity, low-impact workout combining cardio, strength training, and Pilates. The carriage is spring-loaded with resistance and targets glutes, hamstrings, abs, obliques, and other muscles with both heavy and light resistance. It carves a strong core and improves flexibility, endurance, and strength. The Megaformer will make you stronger, leaner, and feel/see muscles you never knew existed!
www.mf3fit.com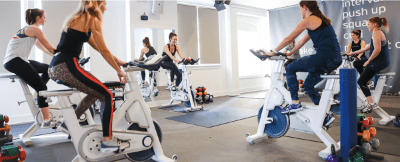 Ride. Build. Restore. In 45 Minutes.
Myx Fitness combines the perfect balance needed to restore your mind and body and energize the soul. Each workout combines cardio, strength and active release phases into single, efficient, complete workout routines.
Enjoy a complimentary class with code TLMN2018
Physical Educator, Christina Collins –  a local Westchester resident, mom and owner of NeverStopMoving365 has assembled a team of fellow physical educators and personal trainers. Her team comes to your house, driveway, or local park, seven days a week to accommodate your child's busy schedule. They bring all equipment needed and provide private sports tutoring and exercise sessions to get your kids moving and fit. We look forward to coaching your family to a healthy 2019.  Please call 914-497-2691 or email [email protected] to book your first session.
SHRED Fitness is a ski-inspired high intensity total body workout for people of all fitness levels, whether you are a ski enthusiast or prefer to spend your winter days on a warm sunny beach. The strength, balance, and agility work will get you into the best shape of your life while having a blast doing it.
New client special: 2 classes for the price of 1
Instagram: @shred_fitness
shredfitny.com
Scarsdale Corners
1481 Weaver St., Suite C * Scarsdale, NY 10583
SoulCycle is a 45-minute indoor cycling indoor class that features high-intensity cardio, muscle-sculpting strength training and rhythm-based choreography. But it's so much more than a workout – it's a powerful mind-body experience. We ride together as a pack in candlelit studios to the rhythm of one-of-a-kind playlists made by instructors who support us, coach us and push us to reach our personal bests!
STUDIO50 Fitness: LOW IMPACT HIGH INTENSITY TOTAL BODY
At STUDIO50 we believe workouts should be fun, efficient and most of all effective!  It is our mission to provide the most effective calorie torching, muscle building, low impact workouts on the market while making it 
MEGA FUN
!  We offer 
Lagree Megaformer Classes, Scorch HIIT
(Hot Interval Training), 
Hot Yoga, and Barre
.  All of our hot classes are in our first class 
infrared heat
.  Benefits include weight loss, detoxification, muscle recovery, flexibility, improvement in the appearance of cellulite, wrinkles and more.  We're a bit obsessed! Give us an hour or less and we'll have you feeling stronger, healthier, and happier than before!
https://www.studio50fitness.com
Enjoy 15% off our 5 and 10 packs with promo code: LocalMoms 
Vadim Fitness Studio offers a complete variety of services for personal health and fitness  Whether you are a patient in need of cardiac rehabilitation, an elite athlete looking to maximize your performance, or whether you are looking to drop a few pounds and get in shape, Vadim Fitness Studio will help you achieve your goals with a program custom-tailored to meet your specific needs.
Exercise physiologist and owner Vadim Vilensky heads a team of highly qualified professionals.  In addition to personal training, clients can take advantage of weight-loss and nutritional counseling by a registered dietician, or an array of therapeutic massages by a licensed massage therapist.
"Creating user friendly bodies since 2001 "  TM
455 Central Park Avenue * Scarsdale, NY 10583
914-725-9553
Whether you are exhausted by the the challenges of new parenthood, navigating the difficulties of divorce, or dealing with the stress of caregiving – we offer a variety of approaches to help you refocus on your own health, set and achieve personal goals, and most importantly, we can help you feel good again.
www.energyspace.life
917-597-0979
23 Valley Road * Katonah
Schedule a consultation & receive 5% off any treatment or product  Mention The Local Moms Network
Massage Envy Rye Brook is the perfect place for professional massage and skincare services performed by licensed massage therapists and estheticians.
Become an annual member and receive a free 1-hour service!
or call us at 914-417-6940 to schedule an appointment
Located at the Rye Ridge Shopping Center South, 158 South Ridge Street, Rye Brook, NY 10573
ONS has been the area's leading specialty orthopedic & spine practice for more than 20 years.  Same day appointments, walk-in hours evenings & Saturday.  ONS is in network with all major insurances.
Start your new year with a healthier you!
Enhanced Mood –  Glowing Skin – Improve Your Overall Quality of Life
Burn 600 – 800 calories per infrared session – Stimulate your cardiovascular, immune + lymphatic systems.
Less Medication + More Meditation with our NuCalm Meditation Technology
Complete Upper Respiratory Detox in our Salt Room + Kids Salt Room Playdates
Healing Massage + Lightstim Light Therapy
Lead life with a great smile! Get a Free Consultation and take home the insight into your child's dental and jaw development. Come and meet Dr. Leon Su as early as age 7 at Smile More Orthodontics!
www.mysmilemore.com
914-500-8828 or 914-290-6545
7-11 S. Broadway Suite 104 * White Plains, NY 10601
(Shared with Broadway Dental)
Having braces isn't just about improving your smile; it's also about improving your overall dental health.
914-251-0221 or 914-273-9191
10 Rye Ridge Plaza #218, Rye Brook, NY 10573
2 Byram Brook Place, Armonk, NY 10504
325 South Highland Avenue, Briarcliff Manor, NY 10510
Our bright and cheery spot houses talented stylists. We offer cuts and color, makeup, and blowouts. Our bar, overlooks turquoise stemware and two flat-screen televisions. We offer coffee and cappuccinos all day, wine in the evenings, and Mimosas on weekends.
All Local Moms Network January 2019 haircuts include a complimentary power dose that lasts 5 weeks!
Never sacrifice safety for beauty. At Beautycounter, it is our mission to get safer products into the hands of everyone. Transparency is central to everything we do. We share every product ingredient. We choose the best ingredients that meet our safety and performance standards. Working to get safer products into the hands of everyone isn't always easy, but it's important. We are committed to being the leader in clean cosmetics and safer skin care for the entire family,
because we all deserve better beauty.
Start the New Year off right. Beautycounter's high performing products come with a 60 day free return policy if you don't fall in love….
European Wax Center – Revealing Beautiful Skin
At European Wax Center (EWC), revealing beautiful skin is the first step to revealing your best self. Whether you dress bolder, speak louder, or chase your dreams harder after a day of pampering at their centers, every woman who leaves EWC shouldn't just walk out… she should strut out.
We are Iconic Lash Lounge, the leading lash service providers with an upscale and tranquil environment specializing in semi-permanent eyelash extensions. We strive for nothing less than excellence from our top-notch staff all the way to our customers experience and pride ourselves in the mastery of our art, allowing our professionalism and passion to lead the way. Our mission is to provide a comfortable and relaxing atmosphere where client's needs are met and expectations are surpassed.
Clients can enjoy $25 off all first sets and lash lifts or $10 off all first fills. Can not be combined with other promotions.
Located in the heart of Pound Ridge, lies Jacob Allen Salon. A style-forward, professional hair salon that draws clients from Manhattan to Woodstock, and everywhere in-between. Samantha Pfeiffer and her NYC trained and experienced stylists offer the highest level of style, technique and certain organic services that exist in the beauty industry today. It's reclaimed-modern atmosphere has the relaxing and familiar feel of small town Westchester while delivering NYC style. Reverse commute to your next appointment.
JacobAllenSalon.com
914-764-3535
74 Westchester Avenue, Pound Ridge, NY 10576
Salon 421 is a modern, creative-thinking salon conveniently located in Scarsdale, NY, with over 25+ years experience. The luxury salon prides itself on exceptional attention to detail, professionalism and customer service. Mention The Local Moms Network to receive 10 percent off any haircut!
Joselle Santamaria is a NY state licensed esthetician and renowned makeup artist with 15 years of experience in the beauty industry.  As a Specialist in "All things Beauty" she brings both knowledge and expertise to all she does. Her services include, customized skin consultation and facial procedures including organic peels and oxygen treatments, organic spray tanning, brow styling and waxing services. As a freelance makeup artist, Joselle has worked as a celebrity artist in both print and television. She specializes in airbrush makeup and lash application and is available on location. Her passion for helping her clients achieve their vision is what motivates her daily.
Joselle is known for her soft, glamorous looks which accentuate the clients natural beauty.
Instagram/FB.: beautybyjoselle
We are offering the Local Mom's Network
a complimentary Bespoke Advanced Hair Treatment with any Hair Cut Service scheduled in January 2019.       
Perfect for dry, winter hair our Bespoke Advanced Hair Therapy offers conditioning masques full of rich botanicals and natural oils to make hair feel hydrated and naturally full of shine and body. Schedule your New Year's haircut in January and receive the Bespoke Advanced Hair Therapy at no added charge.  $40 value. 
203-661-1111
When it comes to your beauty and wellness, you want the best! Rest assured that when you visit SkinCenter, the winner of Best of Westchester ten years in a row, you will be cared for by the best providers in the field. SkinCenter offers the leading edge treatments in anti-aging and beauty treatments, including injectables such as fillers and neuromodulators, laser treaments, plastic surgery and more.
10% discount toward any one injectable treatment, microneedling or laser treatment. Cannot be combined with other offers.
Discount Code: 10MOMS
For over 25 years, Tranquility Spa in Scarsdale has been Westchester's destination location for an extraordinary, life-enhancing experience: a short-term getaway vacation to focus your mind, relax your body and free your soul.  Whether you enjoy massage therapy, body treatments, facial treatments, microdermabrasion, lam probe, waxing services, laser hair removal, any combination of these, or a full day of multi-service pampering, the Tranquility Spa's entire environment is designed for and devoted to achieving this peace for you!
www.tranquilityspa.com
Greenwich Medical Spa is in the top 1% of BOTOX and Juvederm facilities, #1 CoolSculpting Provider in Connecticut, and 1 of top 5 Ultherapy Providers in the nation.
Package cost is $2,999 for 4 treatments and includes 2 complimentary maintenance treatments. Original cost is $1,000 per session.
UNIQUE HAIR CALLS
FOR UNIQUE CARE
CUSTOM HAIR CARE FORMULATED JUST FOR YOU
STARTING AT $25 EACH